Featured Offer
Arbutus Ridge Open
May 6 - 7, 2017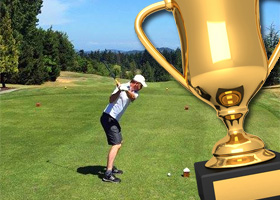 More Details
Men's Night at Arbutus Ridge
Tuesday Men's Night; starting May 2nd!
Choice of:
3pm Shotgun Start (limited to 32 players)
3:15 - 4pm Tee Times
Score doesn't matter!
$49* | $26* Arbutus Ridge Member Price
$12 Power Cart seat (optional; plus tax)
Includes:
Golf
Dinner
On-Course Drink Specials
Competitions on every hole
Prizes Presentation at 8:30pm
Men's Night Weekly Activities
Deuce Pot
Each week there we run a deuce pot during our men's night. You pay your two bucks to enter and then if one player gets a two or better on our 4th or 9th hole and no one else matches them then they win the pot! If there is a tie or no one gets a two then we carry over to the next week. We have had the deuce pot reach over $1000 in past year's so make sure you participate.
Dinner
This year we have a host of menu items to excite your taste buds on a weekly basis. Each Men's Night we will have two options that will rotate throughout the season:
Menu 1
Salisbury Steak with Onion Gravy, Smashed Potato & Vegetables
Or
Pork Schnitzel with Mushroom Gravy, Smashed Potato & Vegetables
Menu 2
Bacon Cheeseburger with French Fries or Salad
Or
1/2 Rack of Ribs with French Fries and Coleslaw
Menu 3
Roast Chicken Breast and Mushroom Sauce with Smashed Potato & Vegetables
Or
Beef Pot Pie with Smashed Potato & Vegetables
On-Course Competitions
One of the cool parts about out men's night is the chance for us to feature local businesses as sponsors. In exchange for us advertising their company they provide us with multiple prizes to hand out each week. Due to our "Score doesn't matter" philosophy we have a host of on-course competitions during men's night that add a little fun factor to the evening and it's through these competitions that we hand out the sponsor prizes.
9-Hole Birdie Pool
Anyone that records a birdie or better on the front nine will receive a percentage of the Birdie Pool weekly total, $5 per person.
9-Hole Gross Skins Game
If you shoot the lowest score on any hole on the front nine you will win a skin and a percentage of the skins money depending on how many are won that week, $5 per person.
Weekly Gift Card Draw
Everyone that enters this contest will be eligable to win a GolfBC Gift Card. The more people that enter the draw, the higher the value of the Gift Card. $5 per person.
50/50 Draw
Half the proceeds will go to the winner and the other half goes to the Arbutus Ridge Junior Golf Program, $1 per person.
Enter all competitions for $20!
Sponsors
This year we have massively increased our sponsorship of men's night and would like to thank the following businesses for their support:
South Cowichan Eye Care
Thrifty Foods – Mill Bay
GBC Golf Academy
Cherry Point Vineyards
Sharpline Developments
Rock Cod Café
Mobile Lube Express
Vista 18
Yates Street Taphouse
Duncan Lanes
James Bay Billiards
Canadian Linen
Steam Works Brewing Co.
Draw Prizes
This is the fun bit! Once again keeping the Arbutus Ridge Men's Night mantra of "Score Doesn't Matter" means all of the prize money we collect each week is allocated to amazing draw prizes. Balls, Hats, Shirts, Golf Bags, Clubs, rounds of golf at other facilities, all find their way to our stacked prize table. All you need to do is participate!
Reservations: call 250.743.5000
*Subject to a $2 gratuity and applicable taxes.